Socitm, the society for innovation, technology, and modernisation, has launched its public sector digital trends report for 2022.
The report outlines that Covid-19 has had an immense impact, not just in terms of public expectations, but also in the way that public service organisations have reconfigured themselves around digital operating models to generate business continuity.
Due to the pandemic, public services have been compelled to move to a digital delivery model, with the support of the public. Now, the task is to recalibrate the way in which public services are organised to build on these digital solutions, Socitm explains.
Socitm's Public Sector Digital Trends report 2022 explores what the upcoming year holds for digital delivery in the public sector.
Accelerating Digital in 2022
"2022 cannot just be a continuation of 2021. There are some significant changes that will be needed to corporate, IT and digital strategies, especially in anticipation of continued acceleration of emerging technologies, such as artificial intelligence and automation", Socitm suggests.
CIO's have agreed that Covid has created unprecedented cultural change and digital acceleration that cannot be changed and could be seen as a positive. Public sector CIOs have said this for some time about the benefits of faster adoption.
The report explores the faster adoption of digital technologies:
Emerging technologies such as Al, which depend on digital practise

The public are now expecting disruptions and services have improved to deal with it

IT has quickly moved on, meaning the sector can manage with the new model of multi-cloud and a disrupted data environment

The new digital services have excelled and are now dependent upon

Models of the cloud have proved they are safe, reducing previous fears of insecurity

Economic, social, and environmental strategies depend on digital practices, putting more pressure on them

A positive work collaboration has been created and teamwork has been worked on between and throughout work departments/groups
However, the fast rollout of digital necessitated by the pandemic has left crucial activities to deal with in 2022.
What digital practices will endure after Covid?
In the report, Socitm identifies the key public sector digital trends of 2022 to be:
Democratisation of data

Convergence of tech trends

Next-generation AI

Integration of relational services

Visualisation techniques

Post-Covid-19 pressures on IT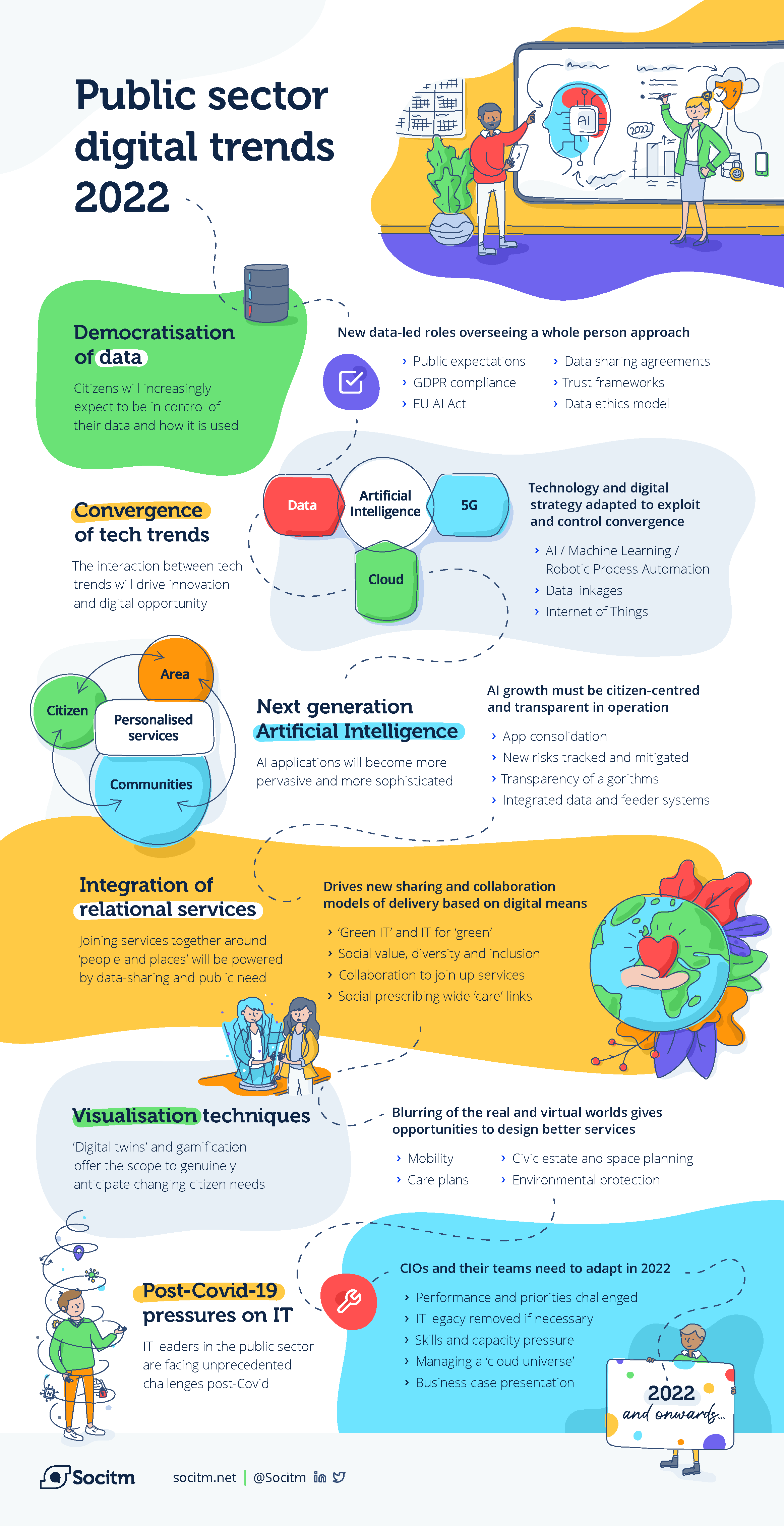 Socitm's 2022 report is distinct in that it firmly focuses on the public sector with an emphasis on place-based leadership around people, communities, and their environments.
From a political point of view, the report is important as it suggests in 2022 political leaders must be at the heart of digital planning – understanding how 'digital' affects policy delivery, risk management, equality, and service performance.
Read the full Socitm Public Sector Digital Trends 2022 Report here.
The Second Annual Changing Landscape of Cyber Security in the Public Sector Event
Examine the key issues related to improving cybersecurity in the UK public sector as this important conference returns for its second year. Gain vital insight into how organisations can protect themselves against attacks by becoming more resilient and adept at identifying and managing cyber risks.
Learn more about the Public Sector Cyber Security event here.
The Second Annual Combatting Public Sector Fraud Event 2022
Discuss emerging threats and key issues in counter-fraud together with experts in fraud detection and prevention, risk audit and investigation, academics, Government employees, and specialists from across the public and private sectors
View the Public Sector Fraud event agenda and secure your place here.
Advancing AI in The Public Sector: Increasing Resilience, Productivity, Growth, and Innovation
Join us at the AI in the Public Sector 2022 conference to hear the latest updates from the government and key public sector bodies. Hear case study examples of AI implementation from across the public sector including central government, local government, healthcare, and education.
Learn more about the Public Sector AI event and secure your place here.